Revolution "Re36" – High grip belted tire with 16 spoke wheel and LT inner (Pre-glued)
Part#: 26021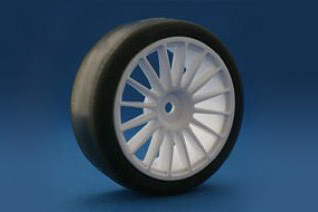 Using our now famous R36 high grip belted tire on a 16 Spoke wheel with light weight LT inner for great driving feel in most track conditions.
Combined with realistic Bodyshells and spoke wheels, these tires have the bes
performance/lool ratio.
The tires are being preglued,then Ready to Use.
Highly recommended for"One Make Rice"class(like the TITC 2012"FF"Class).
1 set includes 4 preglued tire + wheels + inners in a zipped PE bag.
| | |
| --- | --- |
| Product Number | 26021 |
| Product Name | Revolution "Re36" – High grip belted tire with 16 spoke wheel and LT inner (Pre-glued) |
| Barcode Number | 4512205260210 |
| Fit for | 1/10 Touring |
| Qty | 4 |