Revolution "Re32" – High grip belted tire with dish wheel and moulded inner (Pre-glued)
Part#: 26007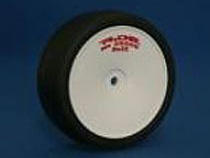 Product Specifications:
Pre-Mounted Tires Set for 1/10 Touring Car
This tire is made of our new compound called « Re Series Tire » for 1/10 Touring Car. It is a pre-mount tire with inner mold C30 on a dish wheel.
There are 4 types of tire compound you can choose from according to the track temperature and conditions. Even when the tires normally wear down, they will keep a very constant level of grip until they literaly burst. Due to this extra long life, changing for new tires after every race is no longer required.
Our Re Series tire plans to pass several validations for Controllled Tire races worldwide and as it is pre-mounted with wheel stamped with item number, the molded inner cannot be changed. Resulting on equal conditions for every racer.
World Champions like Atsushi Hara and Andy Moore supervised the development of this revolutionary tire.


| | |
| --- | --- |
| Product Number | 26007 |
| Product Name | Revolution "Re32" – High grip belted tire with dish wheel and moulded inner (Pre-glued) |
| Barcode Number | 4512205260074 |
| Fit for | 1/10 Touring |
| Qty | 4 |