Rex-J36 1/10 TC High Grip Tire w/Yellow soft Inner (Pre-Glued/4pcs)
Part#: 26110-R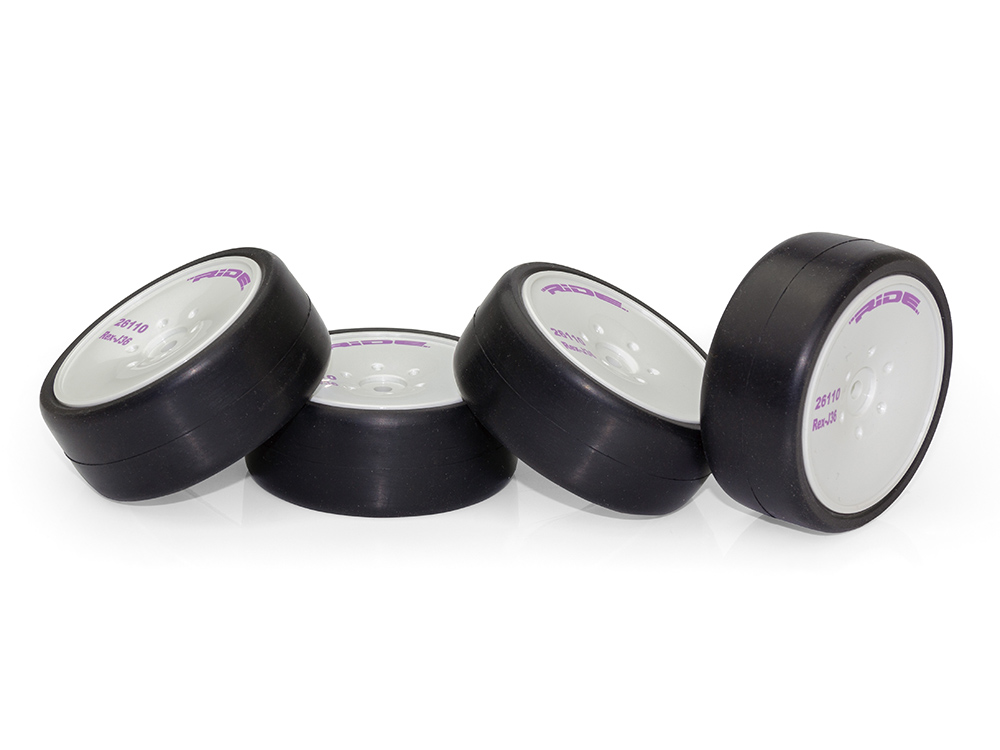 Introducing new "REX-E/J" 1/10th Touring Car Pre-glued Racing Tire Series that have now received new updates for more performance. Keeping the proven "REX-34" tire design, The "REX-E/J/" series integrate a newly formulated compound, new wheel material and super thin DURA-Inner belt for the best track performance. Th e RIDE E / J tires will be one of the best pick for current high-speed TC racing scene and controlled tire events. Our new packaging with EZ-tire tray keeps tire in perfect round shape right after use or during transportation.
-All tires come pre-glued.
-Comes with zip-lock style plastic bag & tire tray.
Rex-J Series (#26110-R Rex-J36)
Rex-J Series Pre-Glued tire comes with RIDE's Yellow (soft) inner which works well on Low-Mid bite track condition. Also suitable on technical track layout, or when more stable traction is needed. J36 for High Temp.
Our new EZ pack tire tray keeps the tire in perfect round shap all the time! We offer one of the best solution to keep the tire wobble free right after use or during transportation. It is also suitable for soaking traction additive on your tires and keep your pit space neet and clean.
| | |
| --- | --- |
| Product Number | 26110-R |
| Product Name | Rex-J36 1/10 TC High Grip Tire w/Yellow soft Inner (Pre-Glued/4pcs) |
| Price(JPY) | 3,700 |
| Barcode Number | 4 512205 26110 1 |
| Fit for | 1/10 Touring Car |
| Qty | 4 |